We are here. In York. Staying overnight at a hotel right opposite York's famous Cliffords Tower and visiting the pop up Shakespeare's Rose Theatre, a stone's throw away.
We're going to watch Romeo and Juliet in the Shakespearean Theatre.
Romeo is played by the excellent Alexander Vhalos, from the TV series Versailles.
Yes, he plays Philippe, the cross dressing bisexual brother of Louis IVX, and now he is a horny, comic/ tragic teen… That is true Versailles-tility for you!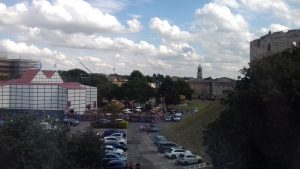 "Aside from the purpose built Rose Theatre," I explain to Mum, "there's a custom built Shakespeare village and Elizabethan garden surrounding it. Plus, 'wagon' entertainment, just like in Shakespeare's time."
"Where are you getting this information from?" asked Mum.
"The internet," I reply, pointing to my laptop screen. "It's all on the Rose Theatre's website."
"I see."
"There is a bar, plenty of Yorkshire food," I continue. "Shakespeare's village is authentic, realistic, accurate – though thankfully there are real toilets on hand which means no one is slinging their effluent on you from above as you sip on your vino."
I then suggest to Mum we go and see one of the four Shakespeare plays showing for the pop up theatre season – Macbeth, A Midsummer Night's Dream, Richard III and Romeo & Juliet.
She groaned.
"Aww, Shakespeare. Why isn't it something more appealing, like Wicked?" she said."Because it's a pop up SHAKESPEARE theatre," I explained. "Plus, the one that plays Phillippe in Versailles is in some of the plays."
"Oooh, I like him," she smiled. "What plays are he in?"
"Richard III. He's also playing Romeo." I replied.
"In what?"
"Romeo and Juliet."
"I see. Yeah. Okay. Let's do it. We'll go and see Romeo and Juliet."
I secretly punched the air.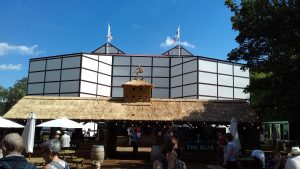 "Will he wear the long, flowing wig?" asked Mum.
"Erm – "
"I hope he wears the wig. I'd like to know how he gets it so glossy."
"I imagine he won't wear that as this version of Romeo and Juliet is set in 1930's Italy."
For a split second, she was disappointed, then became agitated: "A Shakespeare Theatre? That'll be outside. I can't stand for hours as a groundling!"
"It's okay," I reassured, "we'll buy seats. All of the seats are covered."
She smiles. "That'll do me, pet!"
And now we are here. It's a warm evening in York. Well, humid. Let's hope it doesn't stot down with rain! We're wearing light coats and have packed cagoules, as per instructed by the theatre to dress appropriately for the good old English Summer.
The show starts. It is still light, which adds to the feel of it all. But once the dark came in, the lighting design was brilliant, setting so much atmosphere and creating drama, as if a character all of its own.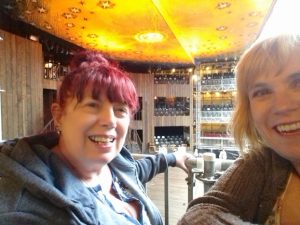 Alex Vhalos and Alexandra Dowling, as Romeo and Juliet, sparkled in scenes together.
"What did you think?" I probe Mum on the show ending and wait for the backwash…
"In the past I've always poo poo'ed Shakespeare, like, and now really appreciate him. I'm starting to agree he was a wonderful wordsmith."
I check her face to make sure she isn't taking the p**s. She isn't.
"What about the performances; what did you think of the actors?" I ask.
"Well the actors are actors and aren't they supposed to act?" A beat…
"Though saying that – the company went well above acting. I loved the audience participation, the breaking of the fourth wall. I felt like I was part of the show. The actors didn't feel like they were out of reach. The ambience was friendly, it felt warm. I loved it!"
So, a down to earth, everyday person absorbed the show. It is welcoming and accessible to all. Appealing. So much so, we are to return to York to the Rose Theatre to watch some more productions. To be uplifted, inspired – despite no long, flowing wigs in sight!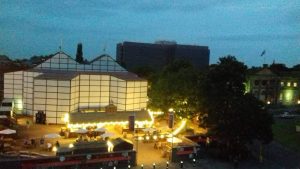 The Shakespeare's Rose Theatre is in York until Sunday 2 September 2018.
For more info, see http://www.shakespearesrosetheatre.com