NE1 Newcastle Restaurant Week 2019 returned again, with over 100 restaurants involved, offering amazing food in Newcastle's finest restaurants for only £10 or £15pp from the 21st – 27th January.
"What do you think of Restaurant Week?" I ask Mum.
"It's very good but is it actually worth the restaurants putting it on? I was thinking do they actually get more people going? Do they actually make profit?" Mum said.
"That's a lot of actuallys –" I laugh.
"If they're halving or taking a third off the menu prices, they still have to pay for staff and ingredients. I know it's for people to try new places, get people into the city centre and it's publicity. I wonder if it's worth it in the long run for Restaurant Week," she continues.
"It gets people back into the city," I offer.
"Oh, it's a good thing. But I think January is a bad month to have it in." Mum says.
"That's kind of the point. January is a depressing month so it's to give people a boost." I reply.
"I understand that. But there's other elements – and I'm not just talking about the crap weather."
"I see.""People still don't have a great deal of money after Christmas. There's still long, dark, cold nights. I don't like January," Mum explains.
"Or Mondays," I chip in.
"Very droll," Mum retorted.
We're at Beeronomy, a brand, spanking new bar and restaurant on Hood Street, off Newcastle's Grey Street, where the art of beer and food are perfectly matched.
"This place, when we spoke to the waitress, she said it was fully booked tonight."
"If it's busy every night for Restaurant Week, then it clearly works. It's great to bring people back into Newcastle. That's always assuming that a venue's food is good," Mum tittered.
"Why did we choose this restaurant today?" I inquire.
"I think it's one of the few restaurants we haven't been in," Mum responded.
"One of the few? We're not Jay Rayner." I joke and we laugh.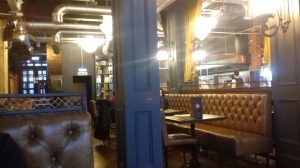 We were sitting at one of the two taken tables. It was mid-afternoon. Post lunchtime and pre-after works drinks. It felt like we had the place to ourselves and that was nice. Plus it meant we got all of the staff's attention.
Beeronomy's Restaurant Week Offer was 2 courses for £10 or 3 for £15 – plus you got a drink, either a pint of house cask ale, a cocktail or a soft drink. You couldn't gan wrong!
We plumped for cocktails and three courses. We were not disappointed. The food was excellent and the attention to detail of the interior and décor of the place is second to none.
Get yourself along to this new establishment, support an independent venue. It's got something for everyone – you don't have to be a beer drinker!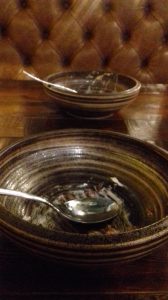 "Maybe they could make it Restaurant Fortnight to give us a chance to eat more delicious food?"
Mum suggests as she sips on a porn star martini.
I nod in agreement:
"So many restaurants, so little time."
Well good news for us – as Beeronomy have extended their offer until Sunday 3rd February, two courses for £10, three courses for £15 and all cocktails are 2-4-1. So get on it like a car bonnet!