"What time does the film start?" asked Mum as we made our way to the cinema foyer.
"One thirty," I replied. "It's quarter past one now, so we've plenty of time."
"Good. I hate to rush."
We were going to watch Bohemian Rhapsody, the biopic of music icon Freddy Mercury and Queen.
Now one would think a city centre cinema would be empty-ish of a midweek afternoon for a matinee showing. One would think.
A queue of seniors awaited us at the ticket counters. I am not ageist and know I will be old myself one day. But that day is very far off.
Every senior who bought tickets – and yes, of course, they were going to watch Bohemian Rhapsody – had a chat about at least two of these topics:
The price of cinema tickets in their youth, why was it so expensive now; how much is pick 'n' mix; where was the best place to sit in the screen; did they have to sit in their allocated seat number; was there an usherette; how loud was Queen's music going to be???
Eventually we get our tickets and make our way to the screen showing the movie.
Unbeknown to us, however, the cinema was like a building site. The cinema's website displays the disclaimer of: 'We are working hard to bring you the best cinema experience… Please bear with us as ongoing works may restrict access to some areas…'
So some slight disruption we expected. We didn't expect the whole place to look like the higher floors of Nakatomi Plaza – you know what I'm talking about Die Hard fans.
Obviously Mum and me were hoping Bruce Willis would swing down and escort us to our seats. Unfortunately he didn't – not today at least.
As mentioned, many seniors were at the screening. There were discussions of were they in the right seats, the rustling of sweet papers and continuous talking throughout the ads and trailers. I had faith that they wouldn't talk during the movie. As long as they didn't sing along to Queen. Please god don't let anyone sing along!
The film eventually started and was worth the wait.
Rami Malek's performance as Freddy was impeccable. He was wonderful, mesmerising, having studied and replicated the great man's every move, habit, gesture. Surely an Oscar nomination must be his!
The supporting cast in the other Queen band members were great too.
Who would've thought that Ben Hardy, formerly Peter Beale from EastEnders, would look so good as glam rocker Roger Taylor, without even taking his shirt off (which he frequently did in EastEnders…)? Or that Gwilym Lee, bearing an uncanny resemblance to Brian May (it's the wig for sure!) is the Sergeant sidekick in Midsomer Murders? Apart from that, John Deacon being played by Joseph Mazzello best known for his role in Jurassic Park as the little boy, Tim?
Excellent job by Susie Figgis the Casting Director!
Lovely moments of humour throughout the film, even during the dark moments.
The soundtrack? what can we say? There are no words for how fantastic the Queen music was – and is.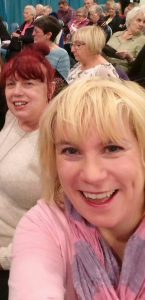 This outing reminded me of when I was given my first cassette recorder stereo one Christmas. Mum got me Queen's Greatest Hits album.
Why would she do that? Being a kid, why would I want that music; why would I like Queen?
She admitted years later, it's coz' she loved Queen and wanted the album.
Nothing like a mother's love.