Give our vlogs a watch, a like, a share – and subscribe to our You Tube channel!
STOP PRESS       STOP PRESS      STOP PRESS
Ah, Paris. The Eiffel Tower. The Champs Elyses. Louvre. Notre Dame.
So much to do, so much to see – so little time!
"We've only got one afternoon," said Mum. "What can we do?"
Well, quite a lot. However, pre-planning is the key.
We'll say it twice – pre-planning is the key!
"We're going to visit Notre Dame first and explore the fourth arrondissement," I reply.
"The what?" asked Mum.
"Well, Paris is made up of 20 different neighbourhoods which are called arrondissements. Notre Dame is located in the fourth one so we will mooch around that area."
"I see," she replied.
We alighted the metro at St-Michel Notre-Dame. The metro is fantastic way to travel around the city. A single metro t+ticket is just 1.90. Once validated, the t+ ticket allows you to make as many transfers, within the city, as you want on the metro, RER trains and the bus for 2 hours after the first validation. Two hours of travel for 1.90!
We digress… After alighting the metro, we walked to Notre Dame, walking over the River Seine via the Pont Notre Dame.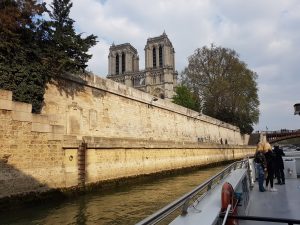 We spent some time at Notre Dame and looked around the entrance to The Archaeological Crypt of the Ile de la Cité, a museum of the history of the city found under Notre Dame during renovations. The Crypt includes the famous Catacombs of Paris, labyrinth in the heart of underground Paris, the largest graves tomb in the world.
"Shall we go into the catacombs?" I asked Mum.
"Oooh god, no. Sends a shiver down my spine to think of all of those millions of peoples' remains down there."
We carried on over the Pont Notre Dame, leisurely strolling and taking in as much as we could – shops, bistros, cafes, old architecture mixed with new – until we made it to the Office du Tourisme et des Congrès de Paris located on the Rue de Rivoli.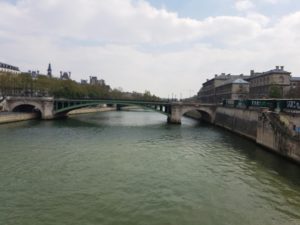 Office du Tourisme have brochures and maps with the sights of the city, distributed free of charge. However, we weren't prepared to be searched and directed through a Security Walk-Through Metal Detector Sensor. whilst our bags were placed on an X-ray system. First time that's happened to us on entering a store.
"Do you have restrooms?" I asked an assistant.
"The nearest toilets are in the department store opposite," she replied.
Off we went to find toilets, not before, on entering said department store, The BHV Marais,  where we were again searched.
"Good job all of the Parisian ladies entering ahead of us were also searched as I was beginning to feel a bit paranoid," Mum laughed.
So the fourth arrondissement, like everywhere in Paris, is – busy, busy, busy.
With that in mind, grow a thick skin. Be prepared to let your rude side out to ensure you get out alive!!!
Obviously an exaggeration…
But you will have to forget all about being English, being polite, being thoughtful or you'll be left behind – particularly on the Metro.
The trains are so busy that to ensure you can get off at your actual stop you have to push and prod people out of the way and simply shout: "Pardon! Pardon!" loudly.
Thank god for my stage voice training!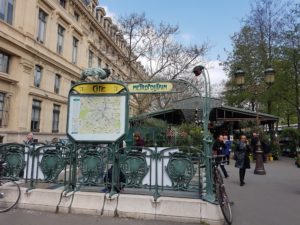 How to spend an afternoon in Paris?
We will say it thrice – pre-planning is the key!
https://youtu.be/RacesAroundTheWorld