"Shake it off."
"Why don't you just relax."
"Get over yourself."
"Snap out if it."
Some of the comments often said to those battling mental health issues.
"It's all in your head." That's another and it's very on the ball – as yes, indeed, it is all in your head! Depression and anxiety is exhausting as it is a battle all taking place in your own head. Your own mind. Your own psyche.
October 10th is World Mental Health Day is an annual event "with the overall objective of raising awareness of mental health issues around the world and mobilising efforts in support of mental health." (WHO)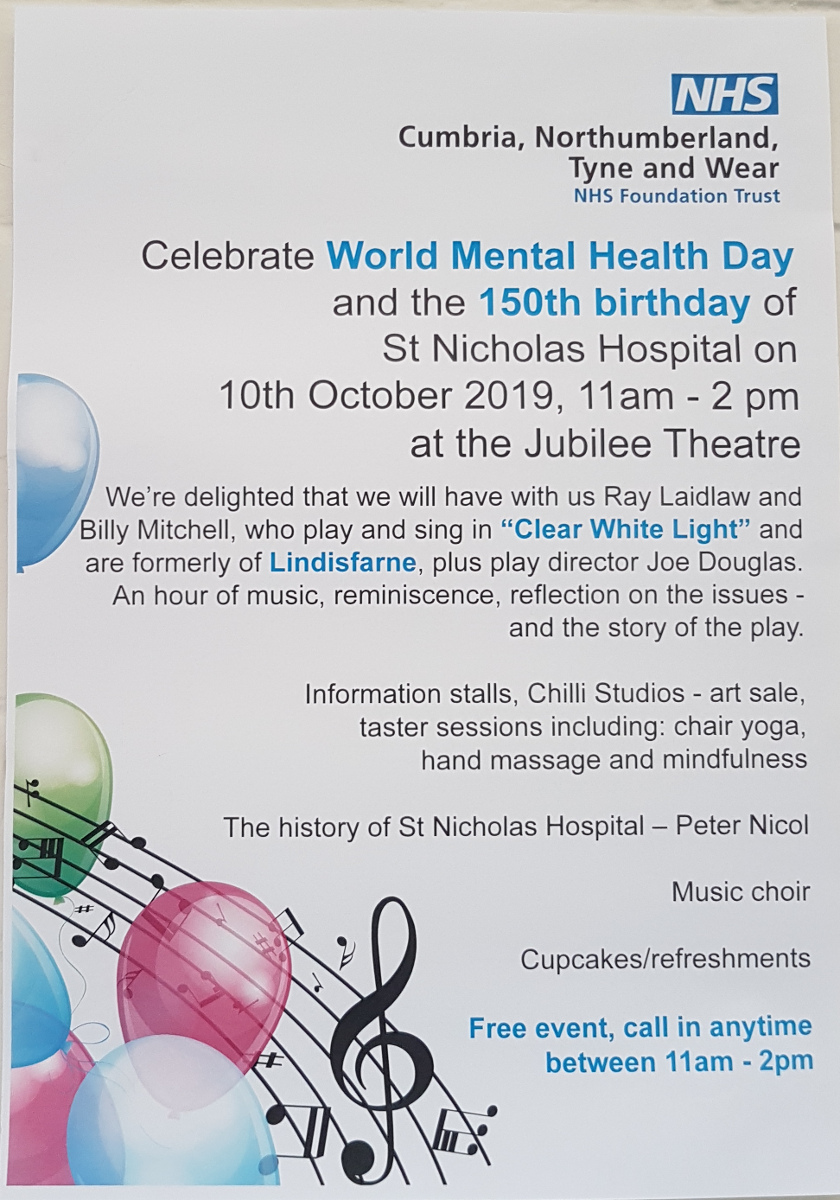 This World Mental Health Day we attended St Nicolas' Hospital, an NHS psychiatric hospital located in Gosforth, Newcastle upon Tyne.
The day had  a double celebration – raising mental health awareness AND celebrating the 150th year of St Nicolas'.
The day was staged in The Grade ll listed Jubilee Theatre within St. Nicolas' and was purposefully built for staff and patients of the Hospital in 1900.
A beautiful space, featuring a proscenium arch of Doulton tiles by W.J. Neatby, depicting two pre-Raphaelite figures. Absolutely gorgeous!

The day opened with an introduction by the welcoming Ken Jarrold CBE the Chair of Cumbria, Northumberland, Tyne and Wear NHS Foundation Trust; leading into a question and answer performance led by Races Around The World's friend, David Faulkner, with former Lindisfarne musicians Ray Laidlaw and Billy Mitchell fresh from their sold-out second run of the play 'Clear White Light' at Newcastle's Live Theatre along with the play's director Joe Douglas.
Ray and Billy discussed the late Lindisfarne member Alan Hull who worked at St. Nicolas' and wrote many of the songs featured in 'Clear White Light' during his time there.
Ray and Billy were wonderfully entertaining, relaxed and funny. Their acoustic performances were divine and engaging. Charming, informative and inspiring. Though talk about bad timing during the song 'Lady Eleanor'…
We, the audience, loved it and the session was over far too quickly!
Taster sessions on mindfulness, chanting and sleep, amongst others, were staged.
As well as a talk around the history of St. Nicolas' by former nurse Peter Nicol.
Such a thought-provoking, fascinating presentation:
How the patients were heavily worked (termed 'slave labour') and were referred to as "idiots", "lunatics", "hysterical (women)".
Thank god we've moved on from those days!
So a brilliant effort by the Cumbria, Northumberland, Tyne and Wear NHS Foundation Trust Communications Team, the voluntary participants, everyone in attendance. And remember to look after your own mental health.