"Robin Hood, Robin Hood. Riding through the glen.
Robin Hood, Robin Hood. Riding back to his den!"
"They aren't the words," I correct Mum.
"Well they should be," she says.
We're on a road trip to Nottingham.
What do you think of when you hear Nottingham?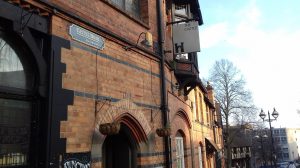 "Sherwood Forest, Robin Hood, Maid Marian," Mum says. "Though Sherwood Forest is about twenty miles away from Nottingham centre, so should they really claim it?"
"What else comes to mind with Nottingham?" I ask.
A long pause. "Kevin Costner."
"That film is always a guilty pleasure," I reply. "He's definitely the best Robin Hood, despite the American accent,"
"He looked gorgeous throughout. Plus you had Alan Rickman being brilliant as the Sheriff. What more could you want? I mean that was the last Robin Hood film made, 'coz they know they can't top it." Mum is resolute.
"There's been two more since Robin Hood: Prince of Thieves." I say.
"Has there?" Mum is surprised.
I nod affirmatively.
Mum is astonished. "Well they must have been shite 'coz I can't recall them at all," she says.
I nod affirmatively.
Nottingham city centre is compact so you can get around and see most of the sights easily, which is great for a cheeky weekend away.
We visit the Robin Hood statue – goes without saying – standing akin to the castle wall.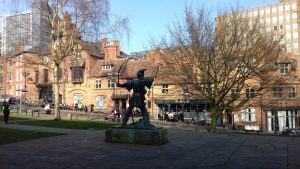 The castle is undergoing a huge redevelopment of the Nottingham Castle site, including the Grounds and the sprawling cave systems hidden within the Castle Rock and will be until 2020.
We can't hang about that long, so, speaking of sprawling cave systems, we go on the Nottingham City of Caves Tour.
The City of Caves is part of a hidden maze of over 500 original sandstone caves underneath the streets of Nottingham dating back to the dark ages.

We bought joint tickets for the City of Caves and its sister attraction, the National Justice Museum, saving us a few quid. Score!
Our City of Caves guide, Alex, was affable and entertaining, giving us puns and jokes along the way. He was also canny dishy, which kept your attention. Well, he certainly kept mine …
Alex quipped, on describing the ancient, natural Spring water well, within the caves: "The water fetchers did 'well' – "
"Do you write your own jokes?" Mum asked with a giggle.
"I do. I 'spout' them jokes out," Alex replied with a smirk. "Thank you for noticing."
The caves were used for smuggling, slums for the poor; larders and pantries for the rich; they house the only medieval underground tannery in the country as well as being used as air raid shelters in WW2.
"So people would take shelter here in the caves to escape the bombings," Alex tells us. "Several hundred people at once."
" And one bucket…" I joke.
He laughs – yay!
The cave tour lasts approximately forty five minutes, but you can stay and explore the network of caves and exhibitions as long as you want. After Alex had told us this, I half expected someone to come staggering from the tunnels, asking "Dr. Livingstone, I presume…"
The National Justice Museum is fascinating, viewing the gaol, the cells and dungeons of days long gone by – and thank god they are.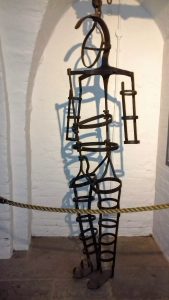 There's tours and re-enactments from the resident actors. There's even a trial we participated in of highway woman, Joan Phillips, where I, along with other audience participants, was asked to play a witness, swear an oath and stand in the witness box.
We participants, the 'jury' decided guilty or not guilty.
Don't worry, we won't spoil the ending for you…
These attractions are definitely worth a visit if you're in Nottingham. Along with many of the historical inns and pubs. Not to mention the assortment of newer pubs, including the Castle Wharf Canalside, a peaceful oasis in the city centre.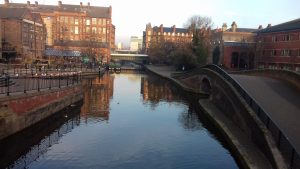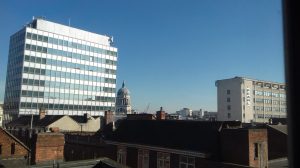 "Nottingham has more to offer than I thought it would," Mum piped up.
"Yeah, it's been good. A good place for a city break" I said.
"It is. It's not just all Robin Hood, Robin Hood – "Mum muses.
I nod affirmatively.