We were informed of the launch of Newcastle's latest Christmas extravaganza – a Christmas Village in Times Square – as well as brilliant The Centre For Life's ice rink opening and encouraged to attend.
"This is brilliant," said Mum. "We have the whole place to ourselves!"
Bar the half a dozen workmen and staff setting things up the Christmas Village ahead of its five PM launch countdown. If you don't count them, then yes, we have the whole Christmas Village to ourselves….
The Life Centre's seasonal ice skating rink is a Newcastle Christmas steadfast, hugely popular and will be open to the public from Saturday 10th November. The Life Centre has a wonderful Seasonal programme coming up.
Sarah Reed, Communications Manager at Life Centre gave us the lowdown on all that will be happening at the Life Centre in the lead up to Christmas!
"There's been loads going on today [launch day]. We've done an event on the ice rink as we've brought it back and it will be here until next February's half term holidays, and although the event is centred on the ice rink, today was to launch our whole festive season. So we've got the ice rink that opens to the public skating from tomorrow. We've got Santa in his grotto, from November 17th on weekends only up until Christmas. Plus our friends in the Christmas Village launching today so that's exciting that it's alongside Life Centre!"
There's also lots going on in the Life Science Centre as well. Not everyone knows that we run Christmas themed activities – you can explore fake snow in the experiment zone; make Christmas crafts in the Making Space; and on the 4D Motion ride, we've got The Polar Express, which gives you a completely new way of experiencing the show."
We also have a fantastic exhibition opening for the Christmas holidays! If anyone likes a nice sci-fi movie for Christmas they should come along to Alien Invasion."
"We can hardly contain our excitement as you've got so much going on!" I tell Sarah.
"It must be a very busy time of year for you?!" Mum chips in.
"There's just so much going on – there's a lot of buzz and excitement. There's going to be as much buzz and excitement in Times Square as there's going to be in Life Centre this year which makes it particularly brilliant!"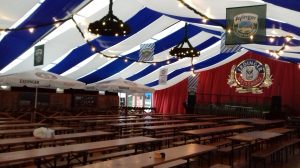 "Will you be at the Christmas Village launch this evening?"
"Oh, definitely! Who doesn't like a nice, warm drink and a log fire? It just gets you into the festive spirit. It's so pretty," Sarah told us. "The Christmas Village team have done a really great job with it – it looks so impressive, so pretty with all of the fairy lights and Christmas trees. It looks fantastic!"
"We look forward to raising a stein with you – cheers!"
"Cheers!"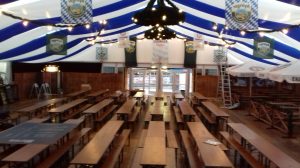 Life Science Centre https://www.life.org.uk/
Newcastle Christmas Village https://www.christmasvillagenewcastle.co.uk/