"I haven't been up and out this early on a Sunday morning since I can remember," said Mum as she looked out of the car window at the landscape flashing by.
We were driving to attend Pages Of The Sea at Roker Beach in Sunderland from our native Newcastle. Now normally there is rivalry between us Geordies and them Mackems, thanks to our opposing football teams. But not today. Today we would all be as one to mark the centenary of the end of WW1.
'On selected beaches around the UK, over the course of several hours, a portrait of an individual from the First World War will emerge from the sand. And then, as the tide rises, be washed away as we take a moment to say a collective goodbye.' – https://www.pagesofthesea.org.uk/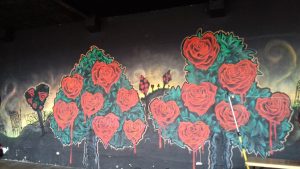 We'd set off extra early to ensure we arrived for the 11am two minutes silence, as well as make sure we got parked.
We parked up at Roker Harbour View and were out of the car as a lady shouted at me: "Look out! Dog poo!!!"
Too late – I stepped right in it!
A massive s**t sat on the pavement, in front of a dog waste bin too. Like it was mocking me.
The lady who'd shouted at me had come closer: "You're best off walking on the sand to get it off," she suggested.
I thanked her and told Mum to walk toward Roker Beach and I'd cut across the sand to meet her there. This was a great idea, bar the sand having mini dunes protruding up making it feel like I was crossing the Sahara. I checked the time, nearly 11am, and then tripped, falling arse over tit.
I met back up with Mum just as the two minute silence began, covered head to toe in wet sand but dog poo free!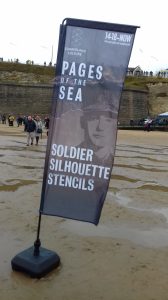 Pages Of The Sea began with huge sand portrait of Second Lieutenant Hugh Carr (born in Sunderland Street, Houghton-Le-Spring, County Durham) bring carved while members of the public created, from templates, silhouettes of loved ones on the shoreline sands.
Looking at these, I turned to Mum: "What made you want to come today?"
"It's once in a lifetime event. Brings it home how brave the soldiers were."
She paused. "It's quite emotional, looking at the different notices people have placed around and on the silhouettes – watching people writing sand inscriptions, putting photos of their lost loved ones on the silhouettes they've drawn.
I feel attending has made me think of connections between the WW1 and today as we wouldn't have the life and freedom we have had they not fought for us."
"It's been excellent," I said. "Really good that lots of people have attended."
"Everyone seems to have enjoyed the event. People have shown respect; been thoughtful. It's been a wonderful experience," Mum continued.
"What have you liked best?" I asked.
"I've liked all of it," Mum replied. "The choir singing was excellent, the atmosphere. I will remember the whole day. What a lovely thing it is for everyone to come together…I will always remember the silhouettes in the sand."
[ngg src="galleries" ids="5″ display="basic_thumbnail"]

Copyright secured by Digiprove © 2018 Sharon Race