"How many Newcastles are there?" asked Mum.
"Over one hundred," I reply. "A hundred that we are aware of, anyway."
"Bloody hell! I thought we were the only one." Mum was surprised.
"Did you, why?" I queried.
"'Coz of Newcastle Brown Ale."
"What?"
"Newcastle Brown Ale says it's 'The One and Only'."
"Right – "
"So, as it made here in Newcastle upon Tyne, we're the only one," summed up Mum.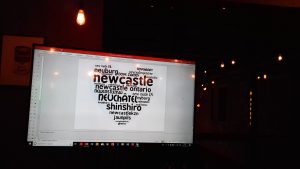 We were attending an event with the Newcastle upon Tyne Network of the Newcastles Of The World.
'What's Newcastles Of The World?' I hear you ask.
It's a friendship network to share experience and ideas on culture, heritage, education and business.
'So what is 'Newcastle'?' you ask.
The origin of the name is often the same whatever the language – an old castle was destroyed or fell into disrepair and a "new" castle was built to replace it.
However, many Newcastles in the English-speaking world take their name from some connection with Newcastle upon Tyne – well of course they do…
'What's so special about these Newcastles?'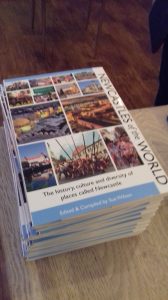 Nyborg (Newcastle), Denmark was from 1183 to 1413 Denmark's capital and the Parliament – the Danehoffet – met at Nyborg Castle.
Nové Zamky (Newcastle), Slovakia, west of the capital Bratislava has a Mayor who is an opera singer.
In our own Toon, a recent immigrant to the city became so enamoured with it, that he has legally changed his surname to Newcastle!
Some of the "Newcastles" have been meeting every two years for conferences. The most recent being staged in Shinshiro City Japan just this September for the Newcastles Of The World 20th anniversary.
"A Newcastles Of The World Cookbook," I said, looking at the cover as we settle down for the event.
"Oh, what a nice touch – everyone who's here is getting a free copy," said Mum.
"What recipe do you think will be in from Newcastle upon Tyne?" I asked.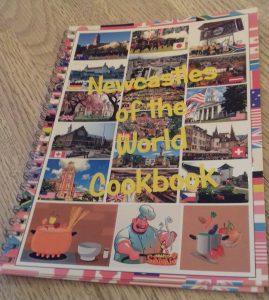 "Hmmm," mused Mum. "I'm not sure –"
"What's Geordie food?" I say out loud.
We both go silent as we muse.
"What about Pan Haggerty?" I say
"Pam who?" says Mum.
"Pan Haggerty," I repeat.
"Think that's a Northumbrian dish. Irish as well."
A pause as we think again.
"Newcastle Brown Ale and steak pie," I offer.
"Possibly," agrees Mum. "Singing Hinnies?"
"Them scone things?"
"Yeah. Like a stodgy drop scone. Lovely with butter on!" smiles Mum. I can tell she's now imagining a warm Singing Hinny with a nice cup of tea. She pauses: "What about pease pudding?"
Pease Pudding is something of a North Eastern delicacy, a savoury dish made of boiled split yellow peas, with water and seasonings. Sounds revolting – but isn't!
"What would a recipe with pease pudding entail?" I ask.
"Well, I think most people have ham and pease pudding sandwiches, don't they?"
"Someone told me their colleague has pease pudding and tongue sandwiches," I say.
"Ugh. A tongue sandwich tends to go on and on…" smirks Mum. "I remember someone telling me to try fried pease pudding – "
"How do you fry pease pudding when it's sloppy mush?"
"Dip it in a bit of flour to give it a slightly crispy coating then fry it. They swear by it!"
"Sounds interesting." I nod. "Though my fella told me that his Dad only ever serves pease pudding as a block, like cheese, on their Sunday dinner. As a garnish"
"Now I've heard it all!" Mum rolled her eyes.
"Let's find out then," I say as I flick through the book.
"Stop there, Newcastle upon Tyne," says Mum pointing.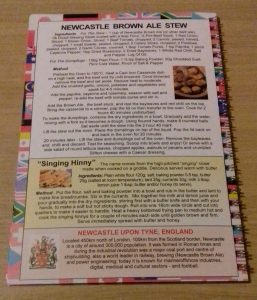 "Ah ha, I was right," I am triumphant. "Newcastle Brown Ale Stew!"
"You said Newcastle Brown Ale and steak pie," smirks Mum smugly. "Close, but no cigar…"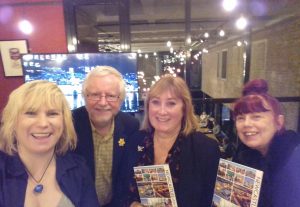 'Newcastles Of the World – The History, Culture and Diversity of Places Called Newcastle' edited and compiled by Sue Wilson, CBE and printed by Tyne Bridge Publishing, is available to buy via Newcastle upon Tyne City Library for £7.99.
For more information and to get involved in Newcastles Of the World, visit https://newcastlesoftheworld.com/
Thanks to David Faulkner

Copyright secured by Digiprove © 2018 Sharon Race