We received complimentary tickets to attend 'Thriller – A Halloween Special' featuring The Hits Of Michael Jackson at Wylam Brewery in Newcastle's Exhibition Park.
The show was presented by World Headquarters.
We caught up with Tommy from the latter who presented the event.
He tells us: "A while ago I decided just doing WHQ Club for the young 'uns wasn't enough. I wanted to get older people out and get our unifying WHQ vibe spread around the generations.
Wylam is the perfect venue to do that. The band 'Rogue Symphony' that played the MJ Halloween show for us, are one of the finest we work with.
As soon as they said they had this in their box of tricks I jumped all over it..!
I'm a massive MJ fan and I know that that they will do him justice"
Rogue Symphony, a 14 strong team of top London session musician chums with full string and brass sections, blasted out the choons!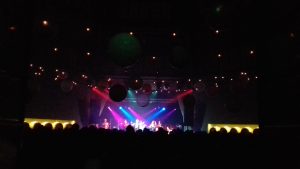 They sang MJ songs across the ages – from The Jackson Five, through Off The Wall to Dangerous.
'Can't Stop 'Til You Get Enough' was belted out by Alex, who was introduced as being part of the Thriller Live Show. His falsetto voice was something I only hit on seeing a spider!
He shared the vocals with Annie and Hollie and all of them were great, definitely not 'Bad'*!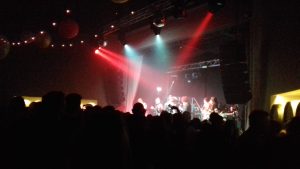 "The show is on Halloween night," we say to Tommy, "what kind of fancy dress are you expecting?"
"Ha! We'll see… I hope a lot of folk will get with the 'spook' of the event and go mad on the costumes!"
Some people went the whole hog. I'm sure I saw someone dressed as a hog roast.
Or maybe he'd come straight from work in an abattoir.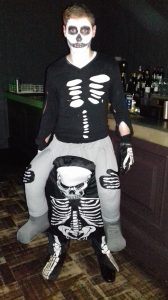 There was Wednesday Adams, witches, zombies. Oodles of sparkly skull jumpers and at least three Corpse Brides.
Lots of MJs in different costumes.I wore a Thriller jacket, then spotted a lad had had the same idea. Bloody cheek. Pffft!
I also saw a woman in a Thriller jacket. I obviously looked better than she did – plus she grabbed her crotch a lot more…
"So what next for WHQ at Wylam Brewery?" we ask.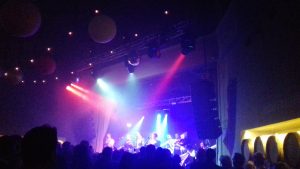 "We have Paul Simon's Graceland with the London African Gospel Choir. I'm really looking forward to those shows. The first date on Friday 16th November has already sold out and Saturday 17th November is flying out.
That is an astonishingly uplifting night out. You should come you'll be amazed..!
Then Rogue Symphony are back with their 'Hits of Beyonce and Destiny's Child' show, which is amazing too on Thursday December 13th. It's pretty much the dream for a girls' night out and always packs out.
I love the whole run into Christmas; we've got so much fab stuff happening at Wylam – sometimes I feel like I'm going to explode with excitement..!!"
And we love World Headquarters!
* British English definition of Bad…

Copyright secured by Digiprove © 2018 Sharon Race