"Why would I want a foot long sausage?" asked Mum.
"You like a big sausage," I said.
"But a foot long one?" Mum continued. "Why?"
"To see if you can fit it in your mouth?" I replied.
Mum stared at me in distaste.
"I think we all know the answer to that, Sharon," she said dryly.
I love saying things about sausages – foot long or cocktail – to wind her up…
After a beat, Mum said: "You're on a roll."
"That's the wurst thing you've said all day." I answered.
"I'm pleased you brat it to my attention." Mum reacted.
"You'll only have a sausage if it has a good girth" I retorted.
Silence.
"I think we've run out of sausage puns," smiled Mum.
I nodded.

We were at Birmingham Frankfurt Christmas market. It's the largest authentic German Christmas market in the UK and outside of Germany or Austria, offering a large range of traditional goods and gifts and a selection of Bavarian themed food and drink.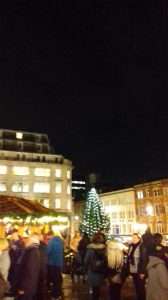 The Market runs along New Street from Victoria Square, where there is much going on, including live music and bands.
The group were going for it, singing their hearts out with cheesy songs. I say group, it was a fella standing singing over another man playing the keyboard.
A gang of teenage girls sat recording a phone video of themselves whilst joining in to 'Is This the Way to Amarillo?' Not truly a Christmas tune, but the girls had made an effort with enthusiasm and Santa hats.
There was a great, community atmosphere to the Market – though maybe that was due to the mulled wine…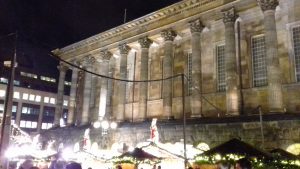 We didn't spot many children out and about at the Market. Though we saw plenty of babies and toddlers being forced to have their photograph taken in Santa's Grotto scene, complete with being forced to sit on the inanimate Santa's knee as the parents tried to get the best shot as the kids were screaming. I don't blame them, as inanimate Santa was well creepy. As for the photos, we look forward to those pics appearing on the 'awkward family photos' website, or similar, in the future.
So many food and drink stalls, there certainly was a lot of choice:
Pretzels, waffle stands, crepes, fried cheeses, burgers, schnitzels, bratwursts of all sizes. As well as roasted nuts – don't worry, we're not going to break out with the double entendres again.
Drinks on offer include weissbeer (German wheat beer), hot chocolate – which could have a 'snaps shot' added. Surely German schnapps is spelt, well, schnapps?
Plus, of course, gluhwein in many flavours, as the menu read:
"Cherry mulled wine… Blueberry mulled wine… Apple mulled wine…
Red."
There was a deposit of £3 for every glass or mug with every drink. Not since being a student have I drank wine from a mug.
We eventually got our bratwurst.
"So you decided not to go for the foot long sausage?" I asked Mum.
She paused as she finished the last mouthful of her regular sized bratwurst.
"Well, I married your father – I was never going to get a foot long sausage."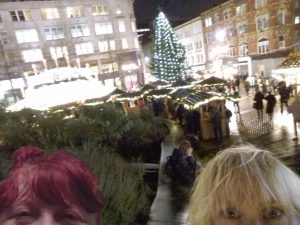 Copyright secured by Digiprove © 2018 Sharon Race