Well, we did the Brum Christmas Market, hence had to do the one on our doorstep – Newcastle's Christmas Market.
So we met at Grey's Monument, a primary meeting point in Newcastle city centre and happens to be where the Christmas Market is set, being open until this Sunday, December 16th.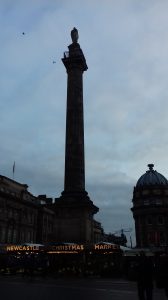 "I'm pleased it's here at Monument, 'coz if it was at the Quay, don't think I could've been arsed," said Mum as I walked up to greet her.
"Good to see you too," I replied. "Shall we walk round?"
"Yeah, sounds good"
We pass the real Christmas tree and plant stands plus the roasted chestnuts and mulled wine fella, where we each buy one to peruse the rest of the market. Newcastle's International Market and Christmas Market have been merged this year to allow people to experience the best of both worlds!
There's plenty of stalls selling Winter accessories, scarves, hats, gloves.
Lots of baked goods stands.
"So pleased I don't have a sweet tooth," I say. "I can't afford the calories…"
Crepes, waffles, French pastries – gorgeous tarts. Too much choice!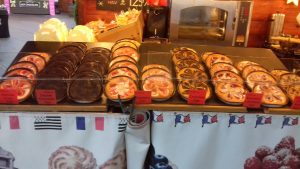 "Look at that, two French tarts for a fiver," Mum says.
"You can't go wrong," Me and Mum say in unison.
We gasp and look away from each other. Have we been spending too much time together??!
The Pick and Mix sweet stall had the longest queue. Everyone getting their sugar fix. Sweets are always very popular. Explains those British Smiles…
There's so much choice food wise, there's all kinds – Greek, Indian, Chinese, Mexican. Plus the German market food, including the infamous bratwurst.
We plumped for the Yorkshire Pudding wraps.
"I wasn't sure how they would serve the Yorkshire Pudding wraps. I thought the gravy would've splattered out all over the place whilst I was eating it," said Mum. "And I wasn't wrong."
"Think I needed a bib!" I moaned. "It's gone everywhere –"
"It's on your shoes," pointed out Mum.
"Oh god. I expect I look like a dog's dinner."
"Don't you always…" laughed Mum.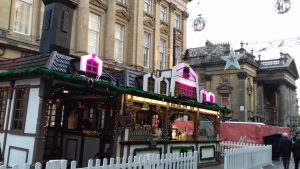 To wash down the Yorkie Pud Wraps, and avoid any pooches, we nipped into the pop up Bavarian cabin style bar, took a seat inside and had a little drinkie each. I had a fruit beer while Mum continued on the mulled wine, adding a shot of rum to spice it up!
"What do you think of Newcastle Christmas Market compared to the Birmingham?" I ask.
"Well it's a lot smaller for a start. But it also seems to have more choice," Mum replied. "Birmingham seemed to have a lot of repetition with the stalls, more of the same. I mean, I enjoyed it – "
"Yeah, it was good," I chip in.
"Absolutely but I felt it was quite corporate and samey."
"We do things well but small up here," I say.
"We do indeed," said Mum with a self-satisfied smile. " I mean, look at me – I'm five foot tall but perfectly formed."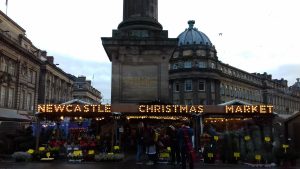 Copyright secured by Digiprove © 2018 Sharon Race